Many modern men largely seem to fall into two types: peacocking fruit-loops who hang on every word of the homosexual editorial board of GQ, or hopeless embarrassments who wander around in oversized ironic t-shirts, jorts, and those abominable black sneakers your beloved grandfather might wear (and he only does it because of those damn bunions). To be fair, I hold less ire for the latter, as they've been told caring for your self image is gay, and unlike the fairy who looks to GQ or Esquire for clothing advice, at least they got their Champion sweatpants in a 5-pack special for $35 rather than paying $85 for a pair made at the sweatshop across the street for the dignity of having an Armani logo embroidered on.
Taking care in your appearance shouldn't be intimidating, but in a world where the primary form of guidance offered is pensively staring men bedecked in thousands of dollars worth of neon-yellow leather shoes, technicolor plaid suits, and mostly-unbuttoned rough-spun cotton tunics underneath, in the glossy pages of unread men's mags, I can see why a lot of men might need some gentle guidance. I'm not going to reinvent the wheel here. Ryan Landry already has a very serviceable podcast on general do's-and-don'ts for dressing yourself. I'm going to elucidate a few simple rules. Perhaps this will become a series and we'll use pictures.
Belts
If your pants have loops, they need a belt. Preferably, the belt should be of similar color to your shoes. Avoid gaudy belts, unless you actually work at a rodeo. A simple stainless steel buckle with brown and black leather will serve you well for a long time. I bought my last belt five years ago and wear it almost every day.
Cut of Your Pants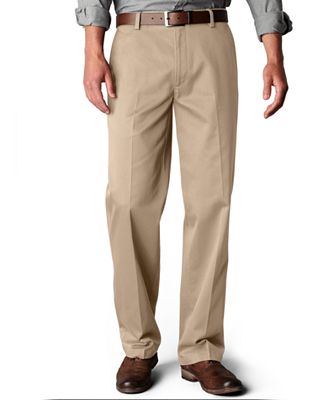 Straight leg is best for virtually all applications. We, of course, condemn baggy jeans. If you're the kind of person who wears boots and wants to keep the tops neat and tidy under the cuffs of your pants, buy boot-cut pants, which were designed specifically with you in mind since they flare out slightly at the calf without looking like bell-bottoms. It goes without saying that boot-cut pants are meant for boots and will give a slight bell-bottom vibe if you wear them with your sneakers or dress shoes.
Hair
Keep it neat, keep it clean. If your hair is too long for you to do that reliably, cut it to a length you can manage. If you're fighting a losing battle with hair-loss, it's better to go Yul Brynner than Homer Simpson.
Facial Hair
If your stubble doesn't come in even, you probably have what I'd refer to as a "patchwork" beard. These never look attractive. You might have seen a lot of these in high school and on the chins of fedora-tipping bronies. And that's the first association anybody's going to make with you if you have one. Soul patches are for hipsters. Goatees and other things should be trimmed and maintained regularly. Full beards should be maintained and the should be trimmed down on the sides of the face at the very least. If you are going to grow out a beard past a half inch, you'll need to maintain it as you would your hair. This means washing it. Brushing and oiling it or adding balm/wax to it doesn't hurt either.
Footwear
Boots and boat shoes. Now that we've got the obvious out of the way, the key focus is on finding what fits your needs as well as your feet. Sneakers are solely for exercise, leisure, or activities which require substantive amounts of walking and other things. Boots vary. I'm of the opinion that boots are perfectly acceptable in virtually all occasions. I've been to weddings in men's casual captoe boots under my suit. I'm a huge fan of cowboy boots and wear them on business trips due to their comfort, the fact they so easily pass for dress shoes/boots if you get them in a subtle enough style, and because they were so easy to get on and off at the airport. We could spend days talking about what the toe of a shoe should have, but I'll leave you with some simple advice: if it looks clunky or clownish, avoid it.
Hats
They may be worn outdoors. They may not be worn indoors. This is the end of the hat section. This should be the end of the hat section, but knowing some people will require clarification on the type of chapeau autiste they may don, I'll offer this: if you have to ask, yes, it looks ridiculous on you. If you really require a second opinion, find somebody who follows all of the conventions listed herein and acquire their opinion. Absolutely no visors unless you seriously have a shot at a Wimbledon title, are ranked in the PGA, or you pledged Sigma Alpha Epsilon in the Fall of '92-'02 and confine its use to those infrequent moments when you sit in your lawn chair listening to Limp Bizkit and remembering better times over a six pack of keystone light.
Jeans
Switch to a darker wash, as it comes off as more professional and they'll typically last longer and avoid showing wear as much as light washes do. My wife says it's better for the environment, if you care about such things.
Patterns and Colors
Avoid anything garish or obnoxious. You should eschew neon colors in favor of earth tones. Bright colors are for accents, not features. Traditional plaids work well. Your pocket square, if you wear one, should never be an exact match for your tie or your shirt, but should incorporate one of the colors or compliment the colors.
Shorts
A contentious issue, to be sure. I know some people (including my dear-old-dad) who say there's no acceptable circumstance for wearing shorts outside of athletics. But if you do wear shorts, they should be above the knee and below mid-thigh. These are colloquially known as "dad shorts." If you're wondering where on Earth the cargo-pockets would go in shorts that length, there aren't any. They're flat-front and only have 4 pockets. The plainer and "less noisy" they are, the better. No jeans.
The Suit
There's plenty of suits in the world. If you want the simplest and most utilitarian one you can find, and you only want one, get a medium-gray suit with two buttons in the standard oxford style, and get one fitted to your build (Athletic/Slim/Modern/Classic/Etc.). It shouldn't sag, bag, or bunch anywhere on your form. Your pants should also not pool over your shoes, so go an inch or two higher than your jeans length. Wear it to funerals with a black shirt. Wear it to weddings or business interviews with a lighter one. Wear it to anything, honestly. Only button the bottom button at formal occasions like weddings and funerals. Unbutton all buttons when you sit.
The Ascot
God, I wish we could make these a thing again. For now, see: The Necktie.
The Necktie
The golden standard of civilized men from New Zealand to Nova Scotia is the Double Windsor knot. There's all sorts of other knots, but who cares?
The Top Button
In the case of all collared shirts, it remains unbuttoned, unless you're wearing a tie. I don't care how many limey numales from TV you've seen buttoning it. If you are wearing a tie, it remains buttoned. If you have a thick neck, acquire better-fitted shirts or use a collar extender.
To Tuck or Not to Tuck
There are some people who say all shirts should be tucked in all the time. Another rule is that if it has a collar, it should be tucked in. Personally, I've never tucked anything into jeans besides a pistol, but I'm not going to turn my nose up at people who do tuck a polo or dress shirt in, and it never looks bad. If you're wearing a collared shirt or dress shirt, you should tuck it into your chinos, dress pants, or other bottoms regardless of what you think about jeans. If your shirt has tails, it gets tucked in. If your gut sticks out, there's really only one way to fix that and you've likely already heard about it before. Exercise and eat better.
Conclusion
All of the above prescriptions should be moderately affordable at all income levels. I'm not telling you that you need to acquire a Hugo Boss suit and handmade patent Italian shoes, or even genuine Lacoste polos. Regular polos don't cost much more than t-shirts. A good belt that will last you a half-decade or more costs less per year than a bad one you'll throw away after a few years. You could start doing a lot of the things on this list today without making a single purchase. And for stuff you do decide to buy, quality always beats quantity in the long run. A coat you wear for the rest of your life, or even just a decade, beats 3 coats you don't really like that much and leave you wanting another cheap coat you probably won't like.
The gist of all of this advice is that you should be the opposite of a peacock or a slob. You should avoid drawing any unnecessary attention to yourself at all. You should look like somebody out of a milquetoast department store ad, laughing in the park with your wife and kids. Your appearance is the first thing people will notice about you. You want to communicate order, discipline, and a sense of propriety. Much of modern men's "fashion" you see makes men look like children. I'm not telling you to burn your t-shirts. I am telling you that when you wear them in public, you get far less respect than you would in a pair of khakis, a polo, and a nice pair of boat shoes.